Is dog day care camp right for your dog?


Day camp or day care is designed to be given to your dog as a gift, the gift of socialization!
Honor your dogs spirit by letting it play with other dogs in a safe contained supervised environment.
While good for almost any dog, our program is especially beneficial for dogs that are bored or anxious when left home alone. Dogs who feel abandoned can develop problem behaviors like chewing on the furniture or having accidents in the home. A dog that has to be crated when you leave the house is most likely to be a dog that will benefit from our day camp program. Day camp is also a great choice for high-energy dogs, playful & sociable dogs. We consider it necessary for puppies and young dogs to gain self confidence and develop their social skills. At the other end of spectrum, dogs with a weight problem or older dogs can also benefit. The excitement of the active dog play gets them up and moving. Many veterinarians who are familiar with dog day care benefits recommend camp for older dogs even with arthritis, as long as they are in good health. Dogs just wanna have fun! We let them run freely off leash in our large secure fenced yards.

We do have separate small & large dog indoor and outdoor play areas.
We separate by size & temperament as needed or when requested.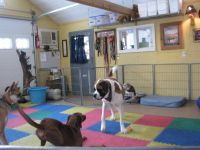 Because no one should be exercising 8-11 hrs per day, daily schedules will also include periods of quiet time and rest for each dog. Each day will include periods of supervised socialization, in which your dog will have the opportunity to make new canine friends, meet with old friends and play, play play!



It is extremely important to us that not only does your dog get sufficient exercise while here but also that he leaves us with his manners in tact! We run through basic commands throughout the day because we know a well-mannered dog is definitely more fun to live with. In the time we spend with your dog we may notice some opportunity for training that we will happily share with you!